Green Beret
DECEMBER 2022 UPDATE
Happy new year everyone! Here's a new version of Green Beret:
- added 2 selectable difficulty levels (Normal and Arcade), because people asked for a less brutal experience.
- "Normal" has a lifebar (which is not a "heresy", since the Japanese version of Contra Hard Corps (Mega Drive) does that too).
- "Arcade" is the same difficulty as previous versions (no lifebar, 1 hit = dead).
Also some minor improvements here and there, such as a little flag marking a "save point/spawn point" reached.
Direct links to December 2022 version:
GreenBeret_WHDLoadDecember2022.lha

PLAYING ON THE A500-MINI ( August 2022 version)

Needed WHDLoad Package v1.0.1, CD32 pad selected (GREEN button shots flamethrower) and Copper enabled (otherwise it's laggy). End of clip shows my configuration screen (Expert Mode enabled):

AUGUST 2022 FIX
Fixed a bug that causes the game to reset if the fire button is pressed during the cut-scene of the soldier jumping over the fence (between levels).
Direct links to the latest version:
GreenBeret_WHDloadAugust2022.lha

MAY 2022 UPDATE
In Green Beret, a player could stall forever the gameplay, such as staying on top of the first truck in level 1. So the original designers added a "timeout jet" that appears and kills players instantly when they're wasting time.
Added it in Amiga's port:
Other fixes:

- blue soldiers only fire one shot, some even retreat after this shot. This is following feedback pointing out that some soldiers were firing repeatedly until they succeed in hitting the player. Limiting them to one shot makes the game's difficulty level way more manageable.

- cleaned some pixel artifacts in the title screen's background.
Direct links to the latest version:
GreenBeret_WHDLoad-Installed.lha

*WHDLoad /A500 Mini*
JOTD kindly provided the WHDLoad installer for Green Beret.
Many Amiga fans are getting the new A500 Mini, which only works with WHDLoad files in a USB drive, and not ADF files, so we're promptly adding a WHDload Pre-installed archive in the downloads section, or by clicking in the direct links below:
GreenBeret_WHDLoad-Installed.lha
GreenBeret_WHDLoad-Installed.rar
I don't have the A500 Mini, probably it won't be released in my country and if it does, will likely cost around 5x times more (literally, I am not kidding), so I'm unable to test it right now, so, let's cross our fingers and hope it works!
**AMIGAMEJAM 2022**
Green Beret won a prize at Amiga game dev competition. More info in the link: https://danteretrodev.itch.io/greenberet/devlog/366259/amigamejam-2022-event

**UNIFIED RELEASE**
I was able to add this little selector on the title screen so the player can choose the soundtrack between OG Arcade or the one based on the NES version. It's straightforward (joystick down, joystick up, fire button to select and start game) and so it's much better than having two releases. It should have an options page where this will fit better, but it's so low in ChipRAM that it was a nice surprise that we were able to fit both soundtracks into one release.
Scroll down to downloads section, it's GreenBeret_FULL_both_OSTs.adf
Also has better horizontal resolution/gameplay area: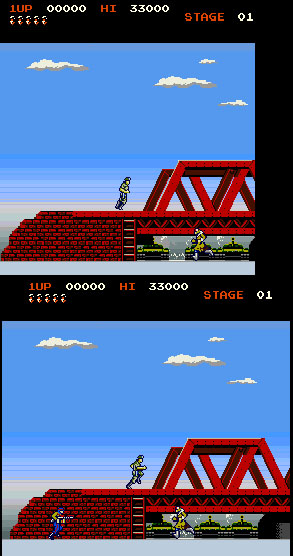 **UPDATED MARCH 20, 2022**

- Enemies in attack position (shooting) now dying instantly when hit by flamethrower (no delay in showing the animation)
- better adjusted position of projectile coming out of enemy bazookas.
**UPDATED MARCH 19, 2022**
- Reduced lethality of enemies with rifles and bazookas
- fixed a bug related to keyboard space bar
- added simple pause function during gameplay (press P to pause, Fire button to return to play).
**UPDATED FEBRUARY 20, 2022**

- Added the missing songs (Stage clear cut scene, and Game Over).
- consistent sound design as even player losing a life uses the music module (and its instruments)
- all music are now multi-song modules, meaning there will be no more in-game loading pauses to load the boss music, it's only changing music position which is instantaneous.
- there is some time for player to prepare before a new boss appears, it is not so sudden anymore
- fixed enemies spawning out of thin air, specially on start of level 2. Score didn't reset if you beat the game and loop it. Some other fixes and improvements.
**UPDATED FEBRUARY 08, 2022**
Added better siren sounds at the beginning. No loading pause for boss music at boss truck. Some other fixes and improvements.
**UPDATED FEBRUARY 06, 2022**
Added BGM 2, which is the music track that will play on stages 2 and 4.
**UPDATED FEBRUARY 05, 2022**

JUMP: the higher jump added in February 03 update ruins the game for many people: it defeats the purpose of ladders, since you can simply jump to reach another floor.
So, in this February 05 update I rolled back to the original jump height with some adjusts but also added a subtle horizontal "push" if the player jumps while moving forward.
This still enables the player to jump from truck to truck in level one or jump over landmines, but is not enough to reach a higher floor.
NOT COVERED YET: many music tracks missing (Stage Clear, Game Over etc).
********************************************************************************************

**WARNING:** *THIS GAME IS REMEMBERED TO BE NOTORIOUSLY DIFFICULT*
Green Beret, also known as Rush'N Attack, is a Konami game released in 1985 (same year of the Amiga) on the arcades and later ported to several home systems. But it was never released for the Amiga back then. Until now! A dream come true, as a long time Amiga user, to finally be able to release a game on the system. Featuring:
- the 4 unique stages from the original (Missile Base, Harbor, Bridge and Prison Camp), with the respective end of level bosses and cut scenes (it's the complete original, also they're the same levels as the classic home computer versions such as C64 and ZX Spectrum)
- all the major enemies (foot soldier, armed blue enemy, jumping guy, mortar-equipped enemy, crawling soldier, paratroopers etc)
- the 3 secondary weapons of the arcade (flamethrower, bazooka/rocket launcher and grenades) as well as the main knife
- can be played even with 1-button controller (press and hold to shoot secondary), 2 buttons gamepads (button 2 jumps) or CD32 gamepad (button green shoots secondary)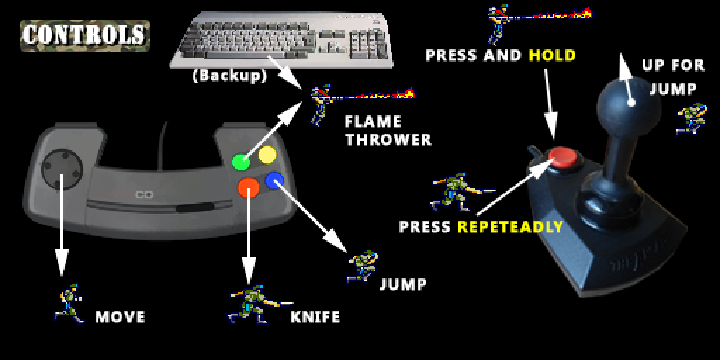 - wonderfully rearranged (by DJ Metune) NES Rush'N Attack soundtrack instead of the simple military march of the arcade, as the Amiga's Paula sound chip can offer so much more (further tracks will be added through ongoing updates)
- compatible with any Amiga model that has 512KB ChipRAM + 512KB Other RAM
- made with Earok's Scorpion Engine

**DISCLAIMER**
** THIS WAS NOT MEANT TO BE A 1:1 PORT OF THE ARCADE, that was not claimed at all. In fact, it plays more like the NES Rush'N Attack one, being quite more "agile" (you can stab from ladders, from instance). It has some advantages like persistent dropped items and apparent more colors (due to use of Amiga's Copper chip to add extra screen colors).
Download